FAQs
What is Dyneema®?
Dyneema® Composite Fabric (formerly Cuben Fiber), is a patented, high-end laminate fabric constructed from non-woven composites utilizing space-age DSM Dyneema fibers. Dyneema® offers an unmatched strength to weight ratio and is 15x strong than steel. Dyneema® is the perfect choice for any ultralight camping and hiking gear such as backpacks, stuff sacks and dry bags.
Why we only use Dyneema® composite fabrics
Dyneema® composite material is the strongest and most waterproof material in the ultralight hiking industry today, and we not only use it for our pack body but we also use it to tape all our pack's internal seams making them some of the most waterproof ultralight packs on the market.
How is Dyneema® colored?
OutdoorINK by Ripstop By The Roll (ODI)
Ripstop By The Roll uses dye-sublimation to color Dyneema®. Dye-sublimation is the process of turning a water-based ink into a gas that bonds with polyester fabric or other polymers. The ink (in gaseous form) permeates the fabric and solidifies into its fibers resulting in a vibrant graphic that never fades, peels, or washes off or out. This is all done with use of heat-resistant transfer paper and a heat press operating at a very specific temperatures and pressures. The outside layer of CT5K.18/blkwov4 (2.92oz) Hybrid Dyneema® is polyester and this is why the dye-sublimation process works so well.
Cancellations/Returns/Refunds
CANCELLATIONS:
STOCK order cancellations are subject to a 3% fee.
CUSTOM order cancellations are subject to a 10% fee.
For ALL shipped order cancellations, the customer is to pay any shipping costs incurred in shipping the order to its destination and returning the order back to LiteAF.
RETURNS/REFUNDS:
STOCK ITEMS: Within 14 days of receiving an item, we accept returns if the item being returned is in new unused condition or defective. In circumstances where you consider an item is defective, please promptly contact us with details of the item and defect. When returning a new unused item, the customer is to pay return shipping.
CUSTOM ITEMS: Non-refundable and non-exchangeable.
Upon receipt of the returned item, we will fully examine it and notify you via e-mail whether you are entitled to an exchange or refund. If you are entitled to an exchange or refund due to a defect, we will replace the item or refund the purchase price and applicable shipping costs using the original method of payment.
LiteAF
4 Linda Lane
Suite C
Southampton, NJ 08088-9178
info@liteaf.com
Please be sure to check SPAM/JUNK folder for LiteAF correspondence including order and shipment confirmations.
Shipping
Domestic shipping options are USPS First Class Mail, USPS Priority Mail, and USPS Priority Mail Express.

USPS First Class Mail: 3-7 business days
USPS Priority Mail: 2-3 business days
USPS Priority Express: 1-2 business days

Please use the link below to view a more accurate estimate for USPS Priority shipping times. We are located in Southampton, NJ 08088.

https://www.usps.com/priority-mail/map/

International shipping options are USPS First Class Mail International, USPS Priority Mail International, and USPS Priority Mail Express.
International shipping often take three to four weeks to arrive once the item has shipped.

International Tariffs/Duties/VAT costs are the customer's responsibility. Please contact your customs office for information on these fees.

Please note the following, although special requests for shipping can be made in the customer notes portion on your order form, e.g., leave at back door, USPS does not prefer to leave packages in any location but the mailbox.
Lead Times
Custom made to order packs, fanny packs and Fast Track Packs have a lead time. These lead time change often and can be found at the top of the page you are looking for. So, if a custom pack lead time is 12 weeks that means we will make and ship your pack within that 12 week time period. Lead times do not include shipping time. See shipping above for average shipping times.
Most of our products are in stock and ship within a couple days of purchase. We try to ship all orders as fast as we can and most of the time they ship the same day (Monday-Friday)

Warranty
All LiteAF products are warranted to the original owner against defects in materials and craftsmanship. The warranty starts from the time the item is shipped out and will end one year from that date. If a LiteAF product happens to fail due to manufacturing defects, we will replace or repair the product free of charge at our discretion. Info on repairs can be found below.
Please keep in mind that ultralight packs require the same care as any other ultralight piece of gear; dropping your loaded pack on the ground, picking it up by the shoulder straps rather than the haul loop, or checking it as luggage can drastically shorten the life of your pack. Treat your pack gently and it will reward you with many years and 1000's of miles of service.
If you have a repair or warranty question please email us at info@liteaf.com
Repairs
Repairs due to improper use, accidents, or general wear and tear, may be charged for materials, labor ($45 an hour), and return shipping. All packs returned for warranty issues MUST be recently washed! Click HERE to see a video of how to wash a Dyneema pack. If we have to clean the gear before repair, it will cost $45 just for the cleaning service!
'
.
---
© LiteAF LLC. Unless otherwise indicated, all data, designs, graphics, icons, images, information, photographs, sounds, text, video clips and other materials ("content") on LiteAF's website, and all copyrights, trademarks, service marks or other intellectual property or propriety rights contained therein are exclusively owned by LiteAF LLC. The LiteAF mark and stylized logo: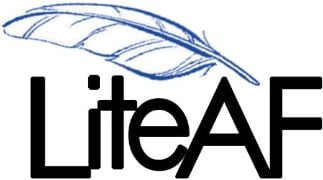 are registered trademarks, and all LiteAF copyrights, trademarks, service marks or other intellectual property or propriety rights are exclusively owned by LiteAF LLC. All rights reserved.