FAQs
LEAD TIMES *UPDATED 11/29/2022 at 8AM EST*
9 WEEKS ON CUSTOM PACKS (order numbers > 41442)
8 WEEKS ON CUSTOM PACKS (order numbers < 41441)
3 day processing time on ALL in stock orders.
4 WEEKS ON FAST TRACK PACKS
2 WEEKS ON FANNY PACKS
NO Lead Time for On The Shelf Packs. Ships within 5 business days
ON THE SHELF PACKS:
****ON THE SHELF PACKS ARE SOLD AS IS AND ARE NOT RETURNABLE****
SHIPPING:
Steps to follow if your USPS package isn't moving:
Go to the tracking status on the USPS site. Click on the Text & Email Updates link.
Enter your email to receive notifications each time the tracking status is updated.
Complete a USPS Help Request Form (step 2 in the link) which will be forwarded to your local Post Office to help locate any missing items.
(packages are shipped from 4 Linda Lane, Suite C, Southampton, NJ 08088)
If after 7 days from completing #3 above, your tracking status still shows no update, please forward the USPS Help Request confirmation email to info@liteaf.com for further assistance.
Thanks for your patience and understanding!
Domestic shipping options are USPS First Class Mail, USPS Priority Mail, and USPS Priority Mail Express.

USPS First Class Mail: 3-7 business days
USPS Priority Mail: 2-3 business days
USPS Priority Express: 1-2 business days

Please use the link below to view a more accurate estimate for USPS Priority shipping times. We are located in Southampton, NJ 08088.

https://www.usps.com/priority-mail/map/

International shipping options are USPS Priority Mail International, and USPS Priority Mail Express.
International shipping often take three to four weeks to arrive once the item has shipped.

International Tariffs/Duties/VAT costs are the customer's responsibility. Please contact your customs office for information on these fees.

Please note the following, although special requests for shipping can be made in the customer notes portion on your order form, e.g., leave at back door, USPS does not prefer to leave packages in any location but the mailbox.
CANCELLATIONS/RETURNS/REFUNDS:
CANCELLATIONS:
ORDERS PLACED USING AFTERPAY WILL BE SUBJECT TO AN ADDITIONAL 6% CANCELLATION FEE PLUS FIXED TRANSACTION FEES AND WHEN APPLICABLE CROSS BORDER TRANSACTION FEES
STOCK order cancellations are subject to a 4% fee plus fixed transactions fees.
ALL PACK order cancellations are subject to a 10% fee plus fixed transaction fees. If you used AFTERPAY it will be an additional 6% on top of the 10% plus fixed transaction fees and when applicable cross border transaction fees.
For ALL shipped order cancellations, the customer is to pay any shipping costs incurred in shipping the order to its destination and returning the order back to LiteAF.
RETURNS/REFUNDS:
STOCK ITEMS: Within 14 days of receiving an item, we accept returns if the item being returned is in new unused condition or defective. In circumstances where you consider an item is defective, please promptly contact us with details of the item and defect. When returning a new unused item, the customer is to pay return shipping and a restocking fee of 5%.
CUSTOM ITEMS: Non-refundable and non-exchangeable.
Upon receipt of the returned item, we will fully examine it and decide whether you are entitled to an exchange or refund. If you are entitled to an exchange or refund due to a defect, we will replace the item or refund the purchase price and applicable shipping costs using the original method of payment.
LiteAF
4 Linda Lane
Suite C
Southampton, NJ 08088-9178
info@liteaf.com
Please be sure to check SPAM/JUNK folder for LiteAF correspondence including order and shipment confirmations.
WARRANTY:
LiteAF products are warranted to the original owner against defects in materials and craftsmanship. The warranty starts from the time the item is shipped out and will end one year from that date. If a LiteAF product happens to fail due to manufacturing defects (not wear, tear, nor abuse) we will replace or repair the product free of charge at our discretion. Info on repairs can be found below.
Please keep in mind ultralight packs require the same care as any other ultralight piece of gear… dropping your loaded pack on the ground, picking it up by the shoulder straps rather than the haul loop, overpacking it, or checking it as luggage can drastically shorten its life. DO NOT ABUSE YOUR PACK. Treat your pack gently and it will reward you with many years and 1000's of miles of service.
If you have a repair or warranty question please email us at info@liteaf.com
Repairs
Repairs due to improper use, accidents, or general wear and tear, may be charged for materials, labor ($55 an hour), and return shipping. All packs returned for warranty issues MUST be recently washed! Click HERE to see a video of how to wash a Dyneema pack. If we have to clean the gear before repair, it will cost $45 just for the cleaning service!
---
Material Comparison
ULTRA™ 200 – 200d Ultra PE is woven and laminated to recycled, waterproof RUV™ film. At just 3.5oz/yd2, it far exceeds the technical properties of any similar weight fabric available on Planet Earth!
Waterproof
Abrasion Resistant
Cut & Tear Resistant
Seam sealed
Extremely durable
Highly recommended for a thru-hike
Highly water-resistant pack construction.
(THERE IS NO SUCH THING AS A WATERPROOF BACKPACK)
X-PAC & ECO Pack
Waterproof
Not seam sealed
Good durability
Would recommend for a thru-hike (with a pack liner)
Good variety of colors
Adds about 2 oz over an ULTRA™ 200 pack
Least expensive
Heaviest
VX-21 6.0 oz per yard
VX-07 4.8 oz per yard
Eco Pack EPLX-200 4.3 oz per yard (we do not offer this material at this time)
ULTRA™ Stretch
Supercharged with ULTRA™
4-way stretch mesh
Weight: 5.5 oz/yd²
Very durable
Tear Resistant
Lycra Mesh
4-Way Stretch
VERY Stretchy
Less Durable
Perfect for shoulder strap pockets
Weight: 3.0 oz/yd²
Poly Mesh (medium weight)
No stretch
Very Durable
Sewn in pleats for added room
Best for airflow
Weight: 2.7 oz/yd²
---
© LiteAF LLC. Unless otherwise indicated, all data, designs, graphics, icons, images, information, photographs, sounds, text, video clips and other materials ("content") on LiteAF's website, and all copyrights, trademarks, service marks or other intellectual property or propriety rights contained therein are exclusively owned by LiteAF LLC. The LiteAF mark and stylized logo: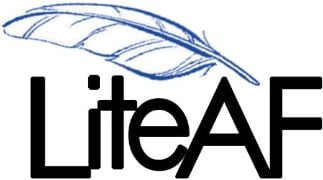 are registered trademarks, and all LiteAF copyrights, trademarks, service marks or other intellectual property or propriety rights are exclusively owned by LiteAF LLC. All rights reserved.